Wire forming is a highly automated process whereby a force is applied to a wire to alter the original shape. This method of manufacturing is used for many applications but is particularly useful when forming medical devices. Marshall Manufacturing is a leading CNC wire and tube forming manufacturer whose services are not only geared towards the medical industry, but their innovative solutions can cover a wide range of engineering applications.
In the image above, a pre-machined medical introducer has been processed in Marshall's CNC bending machine.
For more information on superior engineering services, contact Marshall.
What is Wire Bending?
Prior to forming wire or tubing at Marshall, the material is machined in straight condition. Wire forming at Marshall consists of bending wire or tubing to produce the desired shape. Marshall can do complex bending using Free Form Bending & Rotary Draw. Materials commonly used for wire forming include 17-4 and 17-7 stainless and 304 stainless, L605 and MP35N wire and tubing and other alloys. The material used is application-specific. The final shape of the part is dependent on the application.
An increase in complexity of the final shape of the product requires a more intensive CNC program, or man-hours if manual intervention is required. Pre-processing of a component, such as Swiss machining, can include turning, milling, treading, tapping, deburring, trepanning, cross-hole drilling, knurling. Utilizing wire EDM can produce slots, flats, eyelets in a wire assigned to be bent. Laser tube machining can also be performed on tubing prior to bending.
Post-processing such as coating, electro-polishing or passivating of the part adds extra manufacturing steps and consumables. The dimensions of the wire may also affect the total cost of the formed product as an increase in wire or tubing diameter requires a larger force and may increase the turnaround time. At Marshall, capabilities for bending pre-machined wire range from .062″ to .156″ in diameter, depending upon the type of material. Capabilities for bending laser machined tube range from .062″ to .187″ in diameter, depending upon the type of material and wall thickness. Magazine length capacity for both wire and tubing range from 5.75 inches to 60 inches.
The Wire Forming Process
Methods used in the wire forming process can either be manual or automated, however, most large companies opt for automated CNC machines, much like Marshall Manufacturing. This allows the process to be controlled by an advanced CNC program, ensuring fewer discrepancies between the final products and a decrease in the production time as well as cost.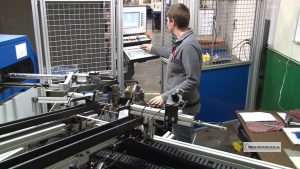 Marshall's 3D Bending Machine is "Servo-Driven"
The process of wire forming starts with selecting the appropriate material. This depends on the final product that is to be manufactured. Once the material is chosen, the dimensions of the wire are decided upon.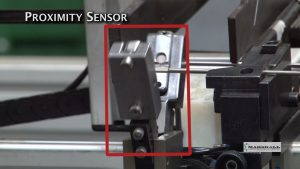 Customer requirements often dictate that a part feature, such as a machined flat, or a drilled cross-hole
must orient to the bend. Orientation is achieved by using laser or proximity sensor devices.
Marshall purchases the raw material (both wire or tubing) in 12 foot bars, so it can be placed in the bar feeders of the Swiss machine or laser tube cutter to be processed and cut to pre-bending part-length. Lastly, a finishing step is completed, which solely depends on the product. The finishing step will ensure that any sharp edges are taken care of, some post-processing adjustments are made, or even coating or painting of the product is done.
Wire Bending at Marshall Manufacturing
Although many applications for wire bent products are available, the medical industry is a very prominent sector. The medical industry, which requires smooth and hygienic products, uses equipment that can withstand a range of temperatures as well as sterilization processes. The metal commonly used in wire forming for medical devices is stainless steel as it can withstand these severe conditions. The desired shapes for the medical industry can cost-effectively be manufactured through wire bending, especially with the use of a custom CNC bending machine. Marshall Manufacturing identified a gap in the medical industry, and makes use of custom tooling and software developed specifically for wire and tube bending.