CNC WIRE BENDING SERVICES
Start with a wire incorporating multiple machined features… then bend the wire so the features always emerge in the same location. Now start with a laser machined tube, and bend it so the laser machined features always appear in the same location.
That's Marshall's niche.
3D CNC WIRE BENDING AND CNC TUBE BENDING FOR MEDICAL DEVICE MANUFACTURING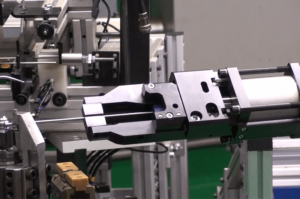 Marshall began small diameter CNC 3D wire & tube bending over a decade ago. We soon found a valuable niche. Medical device OEMs were quick to communicate that such a specialty was deficient within the medical device community. This inspired us to experiment with different materials, custom tooling and proprietary software. Because medical device companies had a need, Marshall began specializing in 2D and 3D wire & tube bending services to become a premier provider to the medical device market.
Many medical device components built from wire stock begin their processing in a CNC Swiss Machine. Required features for this type of a medical device component can include special turned diameters, milled flats, slots, grooves, knurling, cross-holes or axial holes. CNC Swiss machining can provide these types of features prior to the CNC 3D wire & tube bending operation.
Medical device components made from tubing, which later require bending, often begin their processing in a CNC Laser Tube Cutting Machine. CNC laser tube machining is a very precise method for cutting features through the tubing wall prior to the CNC 3D bending process.
As a company, Marshall has grown significantly within this particular area of manufacturing. We pride ourselves in continuous improvement within the specialty of 3D bending. Marshall is continuously striving for new and innovative ways to accomplish these very specialized processes for the medical device market. We're fully qualified in the manufacturing of medical device components.
WHAT IS CNC BENDING?
Computer numerically controlled (CNC) bending is a unique manufacturing process that uses a robotic arm to push wire or tube through a series of servo-driven rollers to bend and form materials into specific configurations. At Marshall, our machines are capable of generating complex bends in both wire and tubing materials, bringing exceptional accuracy and repeatability to medical device component production.
At Marshall, we employ an automated bending cell, which uses CNC control to bend medical device components with peerless precision. This solution uses servo-driven technology to enable precise controlled motion, allowing us to create radical bend shapes in both wire and tube materials. 
Marshall's automated CNC programmable bending system incorporates 2- and 3-dimensional precision bending for small-diameter, pre-machined wire and tubing. This advanced bending solution offers our medical customers superior cost savings, improved production turn-around and consistent quality—driving efficiency and success for their production goals. 
CNC WIRE BENDING AND CNC TUBE BENDING ARE A TRUE SPECIALTY AT MARSHALL
We specialize in two specific forms of CNC bending at Marshall Manufacturing:
CNC wire bending uses innovative machines with servo technology to bend pieces of wire into extremely accurate shapes, based on a pre-set design. At Marshall, this manufacturing technology can be used to craft custom 2D and 3D shapes in wire diameters ranging from .062 to .156 inches. Our CNC wire bending capabilities are compatible with a variety of materials, including stainless steel, titanium and many other metals—and support component lengths of 5.75 to 60 inches. 
CNC tube bending uses the same powerful bending technology to fashion metal tubes into specific shapes. Marshall Manufacturing offers custom 2D and 3D bending for tubes from .062 to .187 inches—allowing many features and configurations to be designed into these specialized components. We work with a range of materials as well (including L605, MP35N, stainless steel and other metals) for component lengths of 5.75 to 60 inches.
HOW DOES A BENDING MACHINE WORK?
In the context of CNC, every aspect of the bending machine is built around flexibility and minimal setup times. CNC bending machines use servomechanisms (devices that convert electricity into controlled motions) to bend small pieces or batches of materials with remarkable efficiency and precision. Let's walk through this process as it applies to CNC wire bending and CNC tube bending:
To begin, all parts are staged for bending in the machine's stock magazine. This section is capable of holding hundreds of parts—and uses a special tool (called a piece separator) to separate and stage the next part for bending. This solution uses proximity sensors and other sensing devices to ensure any required part features (such as a machined flat or drilled crosshole) will orient to the bend.
From here, CNC bending machines use two main bending modes: freeform bending and rotary draw. Freeform bending takes the product through two or more rollers, which put pressure on the sides of the part to create the desired curves. These rollers can be used to create a variety of complex 3D shapes as well, including helixes and curls. 
Conversely, rotary draw bending draws the product around a second mandrel to achieve the desired part dimensions. When required, these two forms of bending can be used together to process a single part. Explore the video above for specifics on how CNC bending machines operate at Marshall—and how our unique process delivers greater value and production efficiency for our medical customers. 
MINNEAPOLIS CNC WIRE AND TUBE BENDING
As a manufacturing partner based in Minneapolis, MN, Marshall provides CNC wire and tube bending services for medical customers across the country and around the world. Our capabilities provide the highest quality precision medical components and surgical instruments on the market—while minimizing lead times and costs for our world-class customers.  
CNC 3D bending of wire and tubing produces cost savings, faster prototypes, faster production and consistent quality.