MARSHALL OFFERS MEDICAL DEVICE MANUFACTURING
A DEDICATED AND EXPERIENCED MEDICAL DEVICE CONTRACT MANUFACTURING PARTNER
Medical Device OEM's have found new solutions, greater capability, enhanced engineering thought and a keen desire to reach critical deadlines all while upholding design and operational efficacy using cost reduction techniques.
Medical Manufacturing Engineering Solutions
Invite Marshall Manufacturing to join your engineering team at the design stage of a new medical device or assembly. This is where we can dramatically impact manufacturing costs as well as preserve, and in many cases enhance product functionality. Marshall can help you by offering unique medical manufacturing processes to bring your creation to life. Our engineering team has years of hands-on process design experience, and we'll leverage our knowledge to advance your product.
We begin by working with your engineering team to understand the desired purpose of your product. We keep future production manufacturing efficiency in mind throughout the prototyping stage. Marshall's engineering staff will quickly develop working prototypes to verify the functionality and aesthetics of your medical device. Iterative prototypes will be provided until an ideal scenario is reached. Marshall's signature "Cost Optimization Strategy" techniques will be implemented.
Marshall Manufacturing is a full-service medical device contract manufacturer, specializing in CNC Swiss machining, CNC Laser Tube Cutting and CNC Wire EDM, as well as precision CNC 2D and 3D bending of pre-machined wire and tubing. We also offer assembly processes such as press-fitting, CNC laser welding, threading, shrink fitting, adhesives and epoxies. Secondary processes include grinding, knurling, milling, stamping, broaching, burnishing, heat treating and electro polishing. Laser etching is also available for part traceability and certification.
Materials that Marshall uses for medical device machining include MP35N, L605, 17-4 and 300 series stainless steels, titanium, and a wide range of plastics. Our 23,000 square foot air-conditioned facility utilizes the latest technology. Managing the manufacturing processes of a medical component is critical to ensure quality products are provided in a timely manner. Marshall will deliver the highest quality components and assemblies—on time and on budget.
Our Medical Device Solutions
Marshall's CNC Swiss machining delivers fast cycle times and greater efficiency for medical device manufacturing. We frequently use CNC Swiss machines to produce smaller, more complex parts thanks to their exceptional precision. This solution is ideal for providing high-quality micro-machined medical components and assemblies. 
CNC 2 + 2 Axis Laser Tube Cutting
Our CNC laser tube cutting machines can hold extremely tight tolerances, making them ideal for the production of medical device components and implantables. These tools are fine-tuned for speed, precision and high repeatability, making them uniquely suited for medium- to high-volume production.
Marshall's CNC Wire EDM (Electrical Discharge Machining) requires minimal cutting force, making it well suited for machining features in fragile portions of a part. We use this solution for crafting medical device tools that must be held to critical tolerances, such as implants and tiny surgical components. 
CNC 3D Bending (Wire & Tubing)
Marshall is a premier provider of CNC 3D bending for small-diameter wire and tubing. Our automated bending machines are capable of generating complex bends in tube and wire parts with extreme accuracy—supporting cost savings, part consistency and speed of production in the process. 
Marshall utilizes CNC laser welding for the assembly of components within medical device manufacturing. This solution brings even greater accuracy and time savings for medical device OEMs through precision welding of tubing and wires—which are used in a wide range of medical components and surgical instrumentations.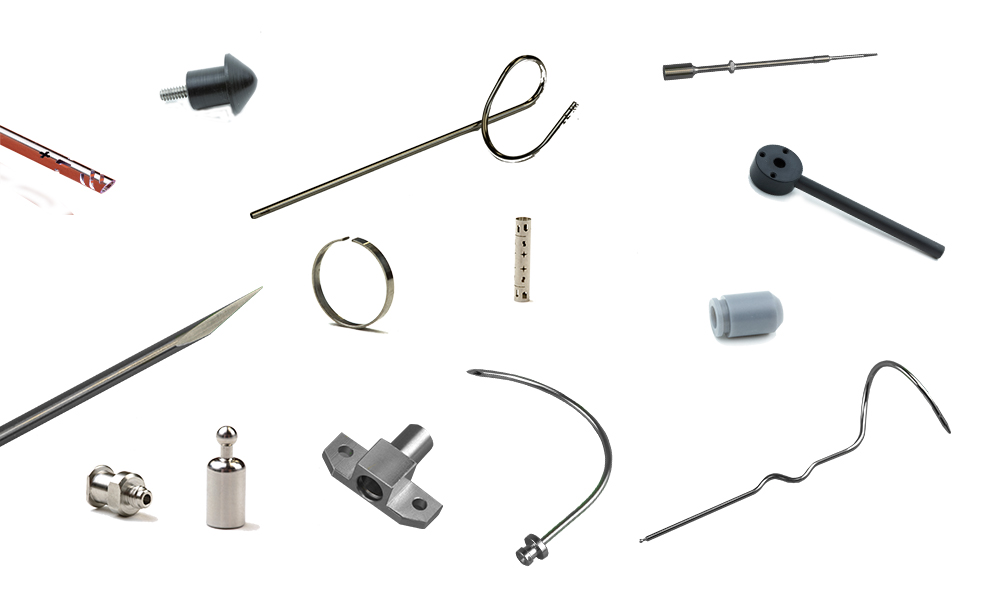 What Is a Medical Device OEM?
Medical OEMs are original equipment manufacturers for the medical device industry. These organizations play an essential role in healthcare by producing innovative tools for medical use, ranging from precision surgical instruments to implantables. 
Due to the complexity and scale of device manufacturing, medical OEMs often partner with contract manufacturers like Marshall. These organizations give OEMs access to many supportive capabilities, including CNC machining, process design expertise and validation. 
As a medical device contract manufacturer, Marshall serves medical OEMs across the country by providing the highest quality precision medical components and surgical instruments on the market. We're proud to serve a variety of medical device companies in Minnesota, across the US and throughout the world, offering precision machining services that add value and make production workflows more efficient. 
Together, Marshall and its partners create powerful solutions to streamline medical device manufacturing and deliver better outcomes for patients. Be sure to contact us online to learn more about our complete capabilities—and how we can add value to your manufacturing project. 
CNC 12-Axis Swiss Machining, CNC 4-Axis Laser Tube Cutting, CNC Wire EDM, CNC 3-D Bending of Small Diameter Wire and Tubing, CNC Laser Welding and Assembly.