CNC LASER CUTTING MACHINE SERVICES
INTRICATE AND PRECISE, CNC LASER TUBE MACHINING FOR MEDICAL DEVICE COMPONENTS
For medical device components and implantables, our CNC laser tube cutting machines are capable of holding extremely tight tolerances. CNC laser tube machining is highly repeatable and suited for medium to high volume quantities.
MEDICAL DEVICE COMPONENTS FROM TUBING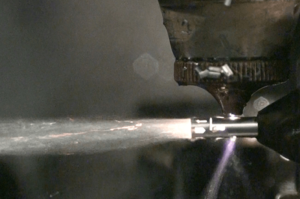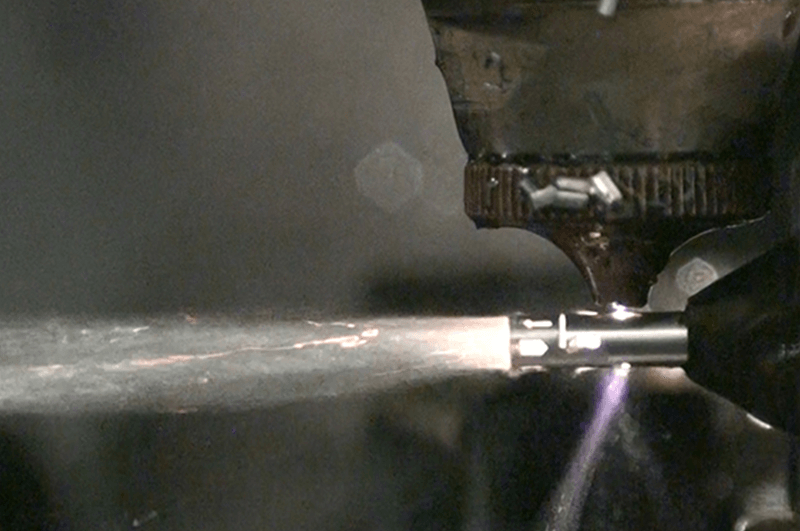 Many of Marshall's customers have extremely tight tolerance requirements on their medical tube components. We offer unique capabilities within our CNC 2 + 2 axis laser tube machining technology for medical device components. Two axis are used to rotate the tube and axially move the tube, and two additional axis can be programmed to move the laser side to side, and up and down. CNC laser tube machining is highly effective when manufacturing moderate- to high-quantity production runs.
Fine-tuned for the medical and biomedical device communities we serve, CNC laser tube machining is a fast, precise and highly-repeatable solution for many customers. This process is extremely reliable—and a strong force supporting Marshall's medical device contract manufacturing services.
One of the primary benefits of using the laser machining process is a minimal "heat-affected zone" (HAZ). The heat-affected zone is the area of the tube which doesn't melt, but is affected by the heat of the laser, which alters the microstructure and mechanical properties of the tube. The heat-affected zone is minimal when considering the very small beam-width, the thin wall of the hypo tube, the feed rate of the material and the water-cooled tube.
By minimizing the heat-affected zone, Marshall's laser tube cutting machines prevent surface cracking, corrosion and other structural changes in the metal that may weaken the part. As a result, components crafted by this process are more uniform, durable and dependable. 
CNC Laser Tube Machining at Marshall Manufacturing
As a leading medical device contract manufacturer, Marshall offers a variety of CNC machining services. Through these capabilities, we provide customers with a host of machined components and assemblies to match their unique production needs. Our team serves as a premier partner for laser tube cutting in Minnesota—supporting the development of precision medical device components and implantables across and beyond the USA and Europe.
Marshall's CNC laser tube cutting machines feature exceptional speed, precision and repeatability, making them ideal for medium- to high-volume runs. Customers use this service to produce small surgical instruments and various device components with tight tolerances. Our laser tube cutting services are ideal for the production of the following solutions: 
Cannulas

Endoscopic components

Surgical instruments
Marshall can accommodate tube diameters ranging from .5 mm to 8 mm (.020″ to .315″). Maximum wall thickness is approximately .5 mm (.020″) with most materials. At Marshall, our laser tube cutting machines can generally hold tolerances of +/- .013 mm (+/- .0005″).
Supporting Capabilities for CNC Laser Tube Machining
At Marshall, we're proud to support our medical customers with innovative manufacturing solutions across every step of their journey. Our team offers a range of additional services to improve quality, create shorter lead times and further reduce costs for our customers. 
CNC Laser Welding
Many medical device components that begin their process in our CNC laser tube machining cell proceed to a secondary operation, such as a CNC laser welding process. In the welding process, the laser-cut tube can be assembled to another tube or component. In many cases, CNC laser welding is the preferred method of assembly because no new material is introduced into the process.
At its core, CNC laser welding creates an efficient and reliable method for joining multiple medical device components—including laser-cut tube parts. Together, these CNC-driven processes offer highly accurate and repeatable parts for a wealth of medical applications. 
CNC 3D Bending
CNC 3D bending of finished laser machining is also a proficiency of Marshall's. It's common for us to bend a laser-cut tube component in both 2-dimensional and 3-dimensional configurations – often orienting off of a laser-cut feature – resulting in that feature landing consistently in place within the 3D bend.
Together, our CNC 3D bending and laser tube cutting services provide remarkable flexibility and control for medical customers, producing cost savings, more consistent quality and faster prototypes in the process. 
Back To Complete Capabilities Page!
Marshall offers 2 + 2 Axis CNC Laser Tube Machining. As a medical device manufacturer, our machines can produce highly intricate tube components.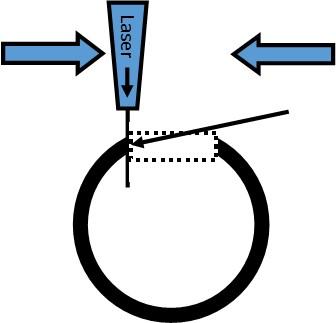 2+2 Axis Diagram: When the Y-Axis is utilized during the cutting process (and the tube is not rotated), the cut edges of the tube remain parallel thoughout the cut.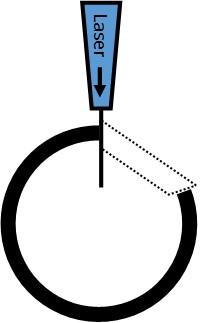 2 Axis Cutting: When the tube is rotated during the cutting process (and the Y axis is stationary), the outer cut edges are at an angle from each other, because the laser always remains pointed to the center of the part.