MARSHALL MANUFACTURING IS FOCUSED ON MEDICAL DEVICE, LIQUID FILTRATION AND FOOD PROCESSING EQUIPMENT
Marshall Manufacturing Company has been in business since 1951, offering precision machining services to their customers.
MARSHALL'S MANUFACTURING MARKETS
Today, Marshall's most prevalent manufacturing markets consist of the medical device, liquid filtration and food processing industries. Starting out back in 1951, Marshall provided short run turning work for the pneumatic and hydraulic industries. Later in the 1970's, a large portion of our contract manufacturing  consisted of military, computer drives, automotive and liquid filtration. In the mid-90's, Marshall focused its manufacturing abilities towards the medical device markets, which is now a large share of its contract manufacturing business.
Marshall Manufacturing Company has been manufacturing machined core tubes to multinational reverse osmosis and filtration companies since the early 1970's. We provide core tube to our customers, who serve a variety of industry segments including: purified drinking water, desalinized water, dairy, beverages, pharmaceuticals and more. We also provide machined couplers, which include the assembly of O-rings. Over the years we have grown as customer needs have risen from moderate to high volume production.
Marshall produces a wide range of customer specified core tube lengths and diameters. Customer requirements span from smaller tubes starting around 12.7 mm (.500″) to tube diameters as large as 101.6 mm (4.00″). Length dimensions also vary depending upon customer objectives. We supply tubes in the smaller diameters at lengths as short as 254 mm (10″). The larger diameter tubes reach lengths up to 1,524 mm (60″). Machining high quality extrusions to customer specifications has become a specialty at Marshall. Supplying burr-free cross-holes by utilizing our proprietary processes is well within our bailiwick.
To smooth out the ebb and flow of customer requirements, Marshall works with many core tube customers to supply products on a KanBan basis. We communicate with our customers regularly, to understand what the minimum and maximum quantities are for each part number, so the customer always has the stock they need. We also connect with customers to identify changing conditions in the market.
Servicing The Food Processing And Hydraulics Industries
Although Marshall is strongly focused toward the medical device and liquid filtration sectors, we are equally dedicated to our customers in the food processing, hydraulics and electronics industries.
Marshall provides a variety of precision machining services to our customers. From simple turning and milling projects to highly complex components, which may involve Swiss machining, laser tube machining or wire EDM.
Marshall's engineering team works closely with our customers to provide them with the quality components they expect.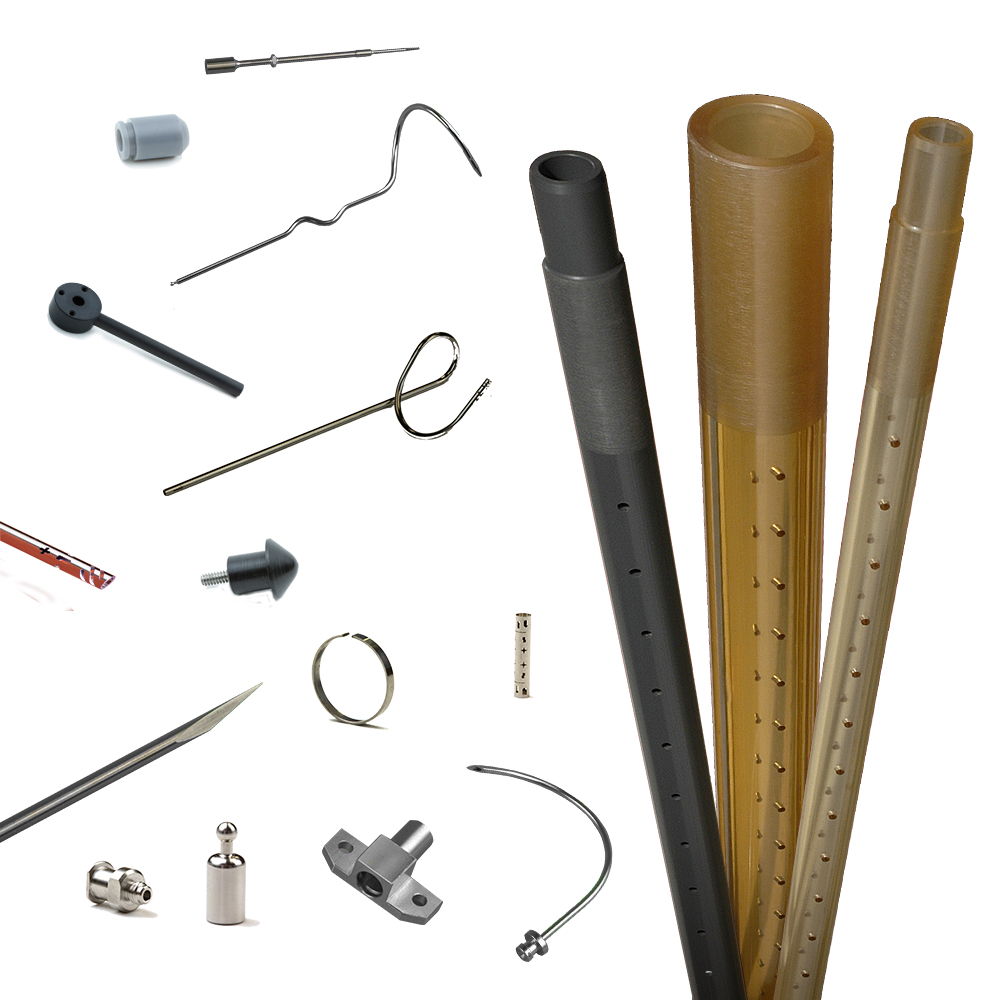 Materials
Longevity in the manufacturing environment has rewarded Marshall with experience machining a wide variety of materials.
Metal Alloys
Stainless Steel; 300 Series, 400 Series 17-4 & 17-7 Series
L605 (Cobalt Chrome)
MP35N (Cobalt Chrome)
Titanium
Aluminum
Brass
Cold Rolled Steel
Hot Rolled Steel
Nitinol (Laser Tube Cutting Only)
Plastics
Teflon
Delrin
Peek
PVC
CPVC
Polyethylene
Polypropylene
Polysulfone
Acrylic
Noryl
Glass-filled plastics
Marshall's CNC Swiss machining delivers fast cycle times and greater efficiency for medical device manufacturing. We frequently use CNC Swiss machines to produce smaller, more complex parts thanks to their exceptional precision. This solution is ideal for providing high-quality micro-machined medical components and assemblies.
Our CNC laser tube cutting machines can hold extremely tight tolerances, making them ideal for the production of medical device components and implantables. These tools are fine-tuned for speed, precision and high repeatability, making them uniquely suited for medium- to high-volume production.
Marshall's CNC Wire EDM (Electrical Discharge Machining) requires minimal cutting force, making it well suited for machining features in fragile portions of a part. We use this solution for crafting medical device tools that must be held to critical tolerances, such as implants and tiny surgical components.
Marshall is a premier provider of CNC 3D bending for small-diameter wire and tubing. Our automated bending machines are capable of generating complex bends in tube and wire parts with extreme accuracy—supporting cost savings, part consistency and speed of production in the process.
Marshall utilizes CNC laser welding for the assembly of components within medical device manufacturing. This solution brings even greater accuracy and time savings for medical device OEMs through precision welding of tubing and wires—which are used in a wide range of medical components and surgical instrumentations.