MULTIPLE OPERATIONS IN CNC SWISS MACHINES DENOTES COMPLETED MEDICAL PARTS
Because of the extensive range of tooling within a CNC Swiss machine, medical device components can be completed without further processing. Processes include turning, milling, cross-holes, slotting, knurling, threading and more.
Marshall's Medical Contract Manufacturing Services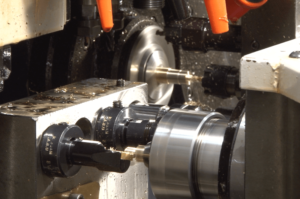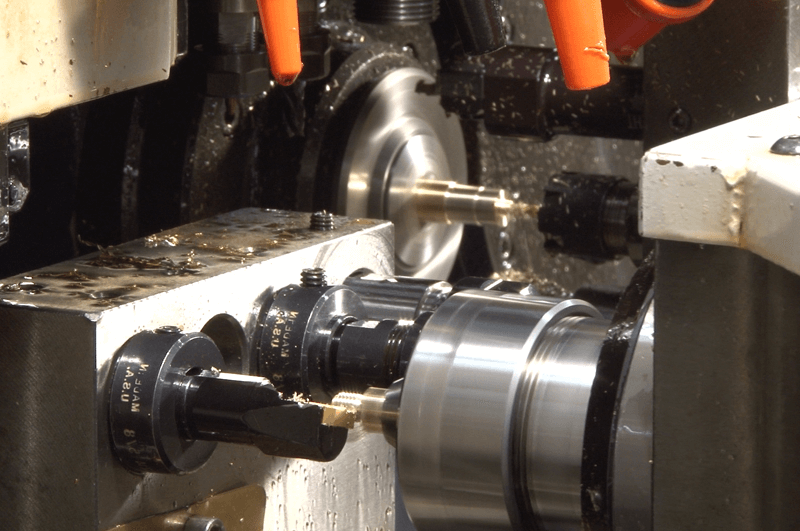 Marshall Manufacturing utilizes CNC Swiss machining to ensure fast cycle times, efficiency, flexibility and precision. The capabilities of the CNC Swiss machine are vast, as is the knowledge of the professionals who tool and program them here at Marshall. 
CNC Swiss machines have the ability to perform long turning operations without material deflection because the tooling is only .050" from the guide bushing, offering great rigidity to the process. The Swiss machine can perform milling, cross-hole drilling, axial drilling, eccentric axial drilling, threading and knurling functions. It also has a second spindle that can provide multiple machining operations to the back end of the component.
Marshall uses CNC Swiss machines for smaller, complex medical components. Often, precision parts can be produced and completed in a single Swiss machine, supporting more efficient cycle times and production flexibility. As a leading medical contract manufacturing company, our customers know we have the ability and know-how to produce their components to specification, on time and on budget.
MICRO SWISS MACHINING
The Tornos SwissNano machine was designed to produce very small parts, with extreme quality and precision. In the world of medical device manufacturing, components are getting smaller and smaller. As these components decrease in size, their dimensional tolerances become increasingly tighter. Marshall has a history of providing high quality micro-machined medical components and assemblies to our customers. Satisfying our customers is our highest priority.
SwissNano machines offer the best precision on the market for medical device manufacturers. These powerful tools are designed for workpieces requiring exceptional precision and quality. Along with their capacity for turning, cutting, deburring and drilling, SwissNano machines offer excellent ergonomics and visual access, making tool adjustment simple and efficient. 
At Marshall, we work with leading Swiss CNC machine manufacturers (including Tornos and and Citizen) to provide the best solutions possible for our customers. Our performance-focused machines are tailored to meet the unique needs of medical device manufacturing, delivering fast cycle times, versatile operations and world-class part quality.
What Is a Swiss CNC Machine?
Swiss CNC machines are used for manufacturing small, complex parts. With Swiss machining, the cutting tools are approximately a quarter inch from the guide bushing, minimizing vibration by creating a more stable holding system. Swiss CNC machines feature exceptional flexibility and precision—making them ideal for complex, high-production applications. 
One of the greatest advantages of Swiss CNC machines is their versatility. These machines can perform a wide variety of functions, including milling, threading, knurling, axial drilling and more. As a result, Swiss machines are popular across a wide range of industries in need of precision machined parts. 
Swiss CNC machining also supports a host of material types, including plastics, cobalt-chrome alloys, aluminum, stainless steel and more. This advantage gives OEMs greater flexibility in choosing materials best suited to meet their functional requirements and optimize end-component costs. 
In the context of medical device manufacturing, Swiss CNC machines are widely used to produce smaller components with extremely tight dimensional tolerances. The efficiency and accuracy of these machines make them uniquely suited for high-precision medical solutions, including single-use instruments and parts for orthopedic devices. 
Swiss CNC Machining at Marshall
As a leading Swiss CNC manufacturing company, Marshall offers a range of high-precision solutions to support our medical customers. Our Swiss CNC machining process creates a stable holding system that minimizes vibration and surface chatter, enabling produced parts to hold tighter tolerances.
Marshall's Swiss CNC machines feature greater speed and accuracy than many traditional CNC solutions. These tools are built to satisfy even the most demanding precision machining requirements, making them well suited for the production of complex medical device parts. 
Intelligent design is a cornerstone of Swiss CNC machining at Marshall Manufacturing. Each machine features a variety of tooling to eliminate the need for additional processing. This feature reduces labor and throughput times, ensuring fast and economical production runs. Most importantly, we maintain strict adherence to industry quality initiatives to ensure every part we produce meets or exceeds performance standards. 
Medical OEMs count on Marshall for the highest quality precision medical components and surgical instruments. Our team is here to understand your specific goals and deliver tailored solutions to reduce lead times, minimize costs and maximize productivity. If you're interested in learning more about Marshall and our complete capabilities, be sure to contact us online. You can also reach out for additional information on our CNC Swiss machining operations—and how they can bring value to your next manufacturing project. 
Back To Complete Capabilities Page
The CNC Swiss machining is very stable process. By placing the tooling .050″ from the guide bushing, vibration, tood deflection and surface chatter are drastically reduced.