REMOVE COST AND ADD QUALITY USING MARSHALL'S "VALUE ENGINEERING SOLUTIONS"
Marshall's Engineering Team is often able to assist customers with cost optimization strategies, based on our manufacturing experience. We encourage our customers to review their medical device components with Marshall early in the product development cycle, for the most impact.
VALUE ENGINEERING AT MARSHALL MANUFACTURING COMPANY
Value Engineering Can Provide Cost Savings
Understanding Fit, Form and Function
There are many reasons why "Value Engineering" plays a significant role in manufacturing. One of the reasons most relevant to our customers is that in many cases it tends to save them a great deal of money. Value Engineering is most successful when we have the opportunity to work with our customers' design engineers, preferably in the early stages of a new product.
Experts at Manufacturing
It is important to know that Marshall is not in the business of designing products. We are experts at contract manufacturing. When we see a drawing or a CAD model where the design is not set-in-stone, and we understand the fit, form and function of the part, we get excited. That's because we have an opportunity to save the customer money, by reviewing drawings with the customers' design engineer, then asking the right questions.
Varying Manufacturing Processes
Manufacturing
It is likely there is more than one way to designs a component that can perform the same function. Depending upon the complexity of a single component, there is also a high probability that there are a variety of manufacturing methods that exist for that component. Because Marshall possesses a broad knowledge of numerous manufacturing processes, we are often able to help our customer by offering an alternative manufacturing process, while simultaneously generating cost savings.
Finishing Options
Often the look and feel of a medical component is critical. Through our decades of experience these esthetic challenges are often remedied by our knowledge of finishing processes. Utilizing any one of our various processes such as rotary and vibratory tumbling, straight lining, polishing, electo-polishing or bead blasting, Marshall can is ready and able to assist customers to achieve the desired component performance and cosmetics.
Material Properties
Chemical Composition 
Most metal and plastic materials are generally good candidates for machining. But material cost and machinability vary significantly depending upon the chemical composition of the specified material. In many cases, material costs make up a large percentage of the component cost. If there is an equivalent lower cost material that meets the design requirements; the component can be manufactured at a lower cost. Selecting an alternate material that is easier to machine will reduce set-up time, machining time and improve quality. All of these factors should be taken into consideration during the design process.
Stock Size
Marshall can work with either custom or standard materials. However, when a product is designed to use custom material stock it will likely be more expensive with a longer lead time. This is especially the case with lower volume parts and tubing. Designing products using standardized sizes will reduce your product development time and reduce costs. 
 Tensile Strength
Many times, a customer may be looking for specific characteristics in a material. A material having high tensile strength will allow the component to withstand a great deal of tension without breaking.  Conversely, a low tensile strength material may have a high compressive strength but be more brittle.
 Material Condition
Applying the right material in the right condition will result in improved performance. For example, a customer may need a very hard stainless steel and heat treated or cold worked material may be the right choice. If the component is used in a more aggressive environment, where corrosion is possible, a higher alloyed stainless steel may be required. In special situations, there are magnetic and nonmagnetic types or stainless steel with varying characteristics.
 Malleable Materials:
Some customer products require more malleable materials, which can be formed or shaped without breaking. Gold, silver, brass, copper and aluminum are highly malleable metals. Surprisingly, depending upon the configuration of the material, even 17-4 PH 900 stainless steel (full hard) can be bent without fracturing. 
Marshall Can Help
Marshall can assist in getting your product to market for less. Give us a call and let us help you take cost out of your product with our value engineering proposition.
Ph: 612-788-9621
FINDING VALUE ENGINEERING SOLUTIONS AT MARSHALL
Marshall Optimizes Manufacturing Processes
For the purpose of increasing the efficiency of the manufacturing process while simultaneously removing cost, Marshall offers "Value Engineering Solutions". This process may involve innovative tooling, testing to discover new manufacturing procedures, or component modification suggestions.
Our medical device customers often bring new, cutting-edge devices to market. The major difference in working with a medical contract manufacturer like Marshall is our dedication to innovative manufacturing techniques. Our goal is to manufacture our customer's devices using the most efficient processes, utilizing value engineering solutions. That objective often results in time savings, which translates into cost savings, ultimately equating to greater success for our customers.
We also work with our customers that are moving existing projects from under-performing suppliers. A medical device OEM may have a supplier that is not satisfying their requirements. They may be experiencing delivery issues, quality problems or communication disconnects. If you're company is suffering from inadequate service, Marshall is here to help.
Offering A Wide Range of Services:
Marshall offers many manufacturing, including CNC Swiss Machining and Micro-Swiss Machining, CNC Laser Tube Machining, Wire EDM, and CNC 3D Bending of small diameter wire and tubing. Assembly methods include CNC Laser Welding, epoxy and press fit.
It's all about new thought, effective process techniques, and the power behind the Marshall engineering professionals. We are dedicated to helping our customers find a better medical device manufacturing solution. Give Marshall a call to discuss your project today.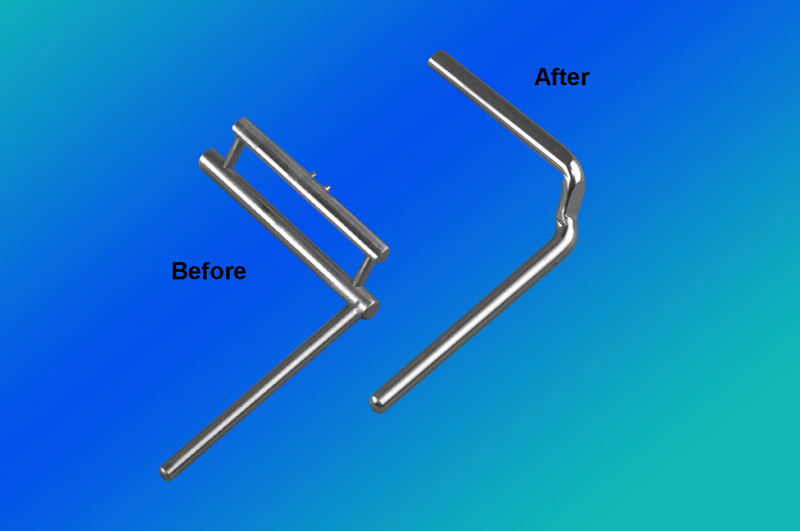 Within the quoting process, Marshall often sees opportunities for cost savings, and shares their ideas with the customer.
Check Out Marshall's Full Capabilities Video