Core Tubes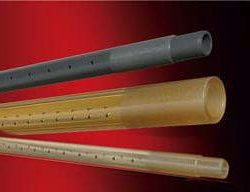 Marshall Manufacturing Company has been manufacturing machined core tubes to multinational reverse osmosis and filtration companies since the early 1970's. We provide core tubes to our customers, who serve a variety of industry segments, including purified drinking water, desalinized water, dairy, beverages, pharmaceuticals and more. Over the years, we have grown as customer needs have risen from moderate- to high-volume production.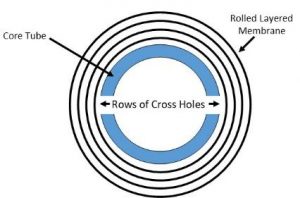 Core tubes, also known as center tubes, are vital components in the reverse osmosis and filtration process. Layered membrane media and spacer material is fastened to the outside of the core tube. The liquid being processed is forced through the layered membrane media—and the filtered liquid is delivered through the drilled cross-holes of the core tube, into the center of the core tube. The core tube is literally the conduit for the purified liquid within the process. 
Marshall produces a wide range of core tube diameters. Customer requirements span from smaller tubes starting around 12.70 mm (.500") to tubes as large as 101.6 mm (4.000"). Length dimensions also vary depending upon customer objectives. We supply tubes in the smaller diameters at lengths as short as 254 mm (10"). The larger diameter tubes reach lengths up to 1524 mm (60"). Machining high-quality extrusions to customer specifications has become a specialty at Marshall. Supplying burr-free cross-holes by utilizing our proprietary processes is well within our bailiwick.
Tube End Processing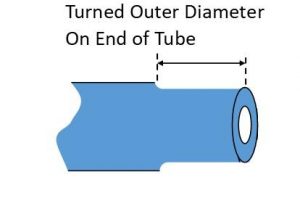 For the purpose of joining one core tube into a series of additional core tubes (as components of complete filtration elements), the tube ends require machining. In some cases, a specified end length is turned down in a CNC turning center to a specified outer diameter. 
In other cases, the end lengths are bored out in the same type of CNC turning center to a defined inner diameter. In either case, the tubes are joined together with "couplers", which Marshall also provides to many customers.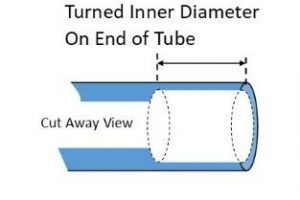 Live tooling is often necessary when specific machined configurations are required on the face of the tube ends. For this type of machining, Marshall has a sophisticated CNC turning center with live tooling and y-axis milling, drilling and tapping capabilities. With its 40-horsepower motor, this hefty machine is capable of turning 101.60 mm (4") diameter material. It has a thorough collet, so the part length is irrelevant. This machine can perform "one and done" operations.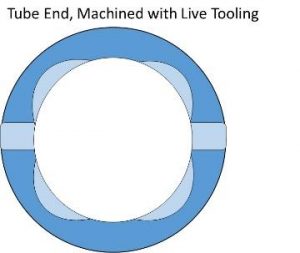 Materials
To avoid any interaction between the core tube material and the fluid that is being processed through the filtration element, our customers specify the core tube material. Marshall has extensive experience machining ABS, PVC, CPVC, Noryl, Polysulfone and Polycarbonate—as well as many additional materials.
Automation
Because of the high volume of core tubes produced at our facility, automation has played a strategic role in staying ahead of quality and customer demand for product. Robots work in sync with CNC turning centers. Automated indexable drilling machines pass finished tubes to the final inspection and packaging area.
KanBan
To smooth out the ebb and flow of customer requirements, Marshall works with many core tube customers to supply tube on a KanBan basis. We communicate with our customers regularly to understand what the minimum and maximum quantities are for each part number, so the customer always has the stock they need. We also connect with customers to identify changing conditions in the market.
Quality
Marshall is ISO 13485 Registered. Every aspect of Marshall is quality focused. From the president of the company to the newest employee, quality is our number one priority. We are committed to producing defect-free components. Marshall assures traceability of each customer's product by certifying material, machines, gauges, inspection equipment and processes. We are fully qualified to manufacture our customers' core tubes and couplers. 
Prior to accepting a contract for a new core tube, a risk analysis is conducted to be certain all criteria can be met. Process verification and validation are implemented to ensure production processes are capable and repeatable. On-Time Delivery is also a part of quality and customer service. We're proud to be on time for our customers.
Choose Marshall as Your Manufacturing Partner
Please consider Marshall Manufacturing Company as a supplier of Core Tubes and Couplers for your RO and Filtration needs. We welcome you to contact us for more information on our process—and how we can add value to your organization.