At Marshall Manufacturing Company, we empower customers with some of the finest precision medical components and surgical instruments in the world. We achieve this through a careful union of innovative practices and strategic technologies—including robotics and automation. Today, we'll be exploring how we use these exciting tools to support high-volume manufacturing.
What are Robotics & Automation?
It may be helpful to start by defining robotics and automation. Merriam-Webster defines a robot as "a device that automatically performs complicated, often repetitive tasks (as in an industrial assembly line)." M-W defines automation as "the technique of making an apparatus, a process or a system operate automatically."
Robots Play a Major Role on the Production Floor at Marshall

At Marshall, robots are often used to load and unload CNC machine components. Robots free up machine operators, giving them time to take measurements and ensure they're running to specification and producing quality parts. Robots at Marshall range in complexity, too. A very simple robot on a CNC 3D bending machine provides loading and unloading operations, utilizing a single X-Y Axes articulating arm with a 360-degree wrist gripper. 
6-Axis Robots Enhance Efficiency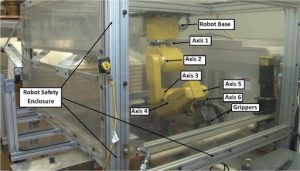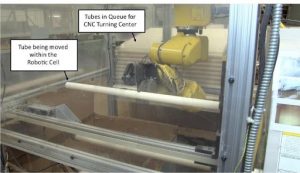 Some of the more complex robots utilized at Marshall have six axes. In the photographs pictured above, the robots have been programmed to transfer 40-inch-long tubes from a bin and place them into the collet of a CNC turning center. The turning center then processes one end of the tube, after which the robot flips the part 180 degrees, and again places it in the collet of the turning center and processes the opposite end of the tube. The robot then removes the part—and places it into another bin for additional processing. The robotic cell then begins the cycle again.
Automation has been integrated into many other parts of the tube product line at Marshall. This includes rotary indexing for drilling multiple rows of holes through the tube walls, linear conveying lines and inline inspection processes.
Utilizing Automation for Quality Improvement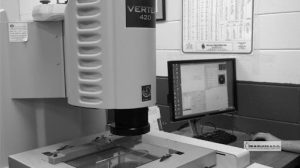 Quality and inspection are also areas in which automation has changed dramatically over the years. Many machined components can now be inspected with a vision system. The vision systems at Marshall can check as many as 50 dimensional characteristics in as little as 20 seconds. 
Our Vision Systems engage a programmable X – Y table that is programmed to move beneath a camera. The camera is on a Z-Axis for the purpose of focus, and is built into a housing, which also contains a series of LED lights for illuminating the product during the measuring process.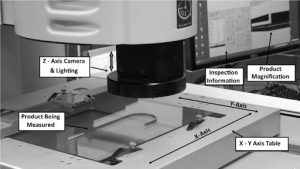 The product being measured is placed upon the X – Y table, and the table moves under the camera as it takes measurements of the product. The Vision System software records and stores the measurements of the product. It has the ability to print reports which can be used for SPC (statistical process control), CPK (process capability), PPK (process performance), as well as graphs and other statistical reports.
The Vision System also alerts the user if there are any dimensions out of specification. These dimensions appear in red on the screen.
Advancing the Field of High-Volume Manufacturing 
In the world of contract manufacturing, automation is constantly increasing the speed and efficiency at which components are being made, while simultaneously improving the quality and consistency of the product. As a contract manufacturer, Marshall is implementing automation technology to meet the rising demand for highly complex components with tight tolerances. Management, engineering, machinists and quality personnel continually investigate new methods of automation to take us to the next step—and deliver superior outcomes for our customers. 
Automation and robotics are used throughout many manufacturing processes. Please consider Marshall Manufacturing Company for efficient, quality precision machining. For more information on Marshall and our complete capabilities, please contact us today.