With a new wave of minimally invasive surgeries being introduced to the world, many of our medical device customers are seeking smaller, precisely machined components. Smaller devices and components equate to smaller incisions, less pain and trauma, and a faster recovery. It is understandable that both the patient in need of surgery and their doctor have an interest in taking the minimally invasive route.
Small Medical Device Manufacturing
Utilizing CNC Micro Swiss machines in the manufacturing of medical devices is a highly efficient and accurate method of production. In most cases, the Swiss machine can complete a complex part in a single machining cycle—driving more reliable and cost-effective workflows. The Micro Swiss machines can produce component diameters as small as .25 mm (.010") and holes as small as .10 mm (.004").
Advantages of CNC Swiss Machining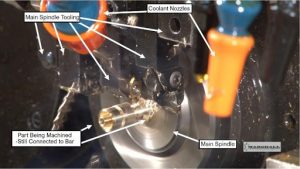 One of the most significant advantages of the Swiss machine is that the cutting tools are very close to the guide bushing. This feature offers greater stability while minimizing vibration and chatter, which in turn enables the machine to hold closer tolerances. The Swiss machine is capable of turning, burnishing, trepanning, knurling, cross-hole drilling, drilling, boring, milling, hobbing, cut-off and many additional processes.
In addition, the CNC Swiss machine employs a sub-spindle. This can be used to stabilize long, small-diameter parts by matching the speed of the main collet and grasping the previously machined portion of the part. When required, this feature provides stable machining for the full length of the part.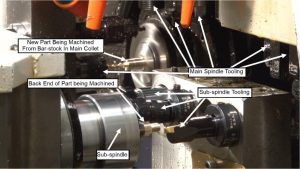 The sub-spindle is also used in the cutoff process, holding the part as it's severed from the bar stock. After the cutoff, the back end of the part can be machined within the Swiss using secondary tooling, offering the ability to drop off finished machined parts. In a way, the CNC Swiss machine is like having two separate turning and milling machines in one.
Small Machines for Small Parts & Devices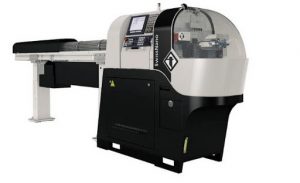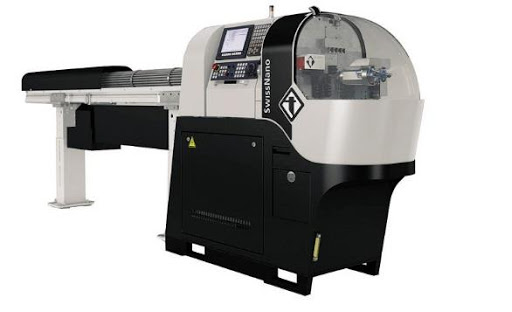 Marshall operates both Tornos, SwissNano and Citizen 12 mm Swiss machines for manufacturing micro components. These machines are conducive in the manufacturing of medical and surgical device components—as well as dental components. 
In many instances the CNC Swiss machine can run lights-out—depending upon the parts being produced, the machines' accessories, the bar feeder and the diameter of the raw bar stock being run. Our bar feeders can hold as many as thirty 3,650 mm (12') length bars. The purpose of the bar feeder is to deliver raw material into the Swiss machine, where it is then processed. These Swiss machines are capable of generating very small precision parts—holding .0125 mm (.0005") tolerances. Optimum quantity runs for these machines range from moderate to high quantities.
Leverage CNC Swiss Machining with Marshall
Marshall's engineering team is often able to assist customers with cost optimization strategies based on our manufacturing experience. We encourage customers to review their medical device component designs with us early in the product development cycle to ensure that our manufacturing process is capable of meeting their requirements. 
Materials with which Marshall has experience include 300 series stainless steel, 17-4 and 17-7 stainless steel, cobalt chrome materials (such as L605 and MP35N), titanium and aluminum.
Please keep Marshall in mind for all of your CNC Swiss machining requirements. We can also support your CNC laser tube cutting, CNC laser welding, CNC Wire EDM and CNC 3D wire and tube bending. Our team has been in business since 1951 and is ISO 13485 registered. To learn more about Marshall Manufacturing and our unique capabilities, contact us today.