When it comes to manufacturing practices, innovation has always been a standard at Marshall Manufacturing Company. Consistently investing in new technology, studying methods to improve the efficiency of tooling, and finding new techniques to decrease cycle time are all critical components in maintaining a cutting-edge manufacturing facility.
Continuous Improvement 
We also pride ourselves in being innovative in areas supporting production. Reviewing our raw material flow, our 5S team began investigating a better approach regarding material handling and storage, as well as the ability to conserve space. Along with this conscious effort to consolidate our raw materials, we also had a goal to build a system that supported ease of access and material traceability—while simultaneously eliminating clutter.
From Where We Came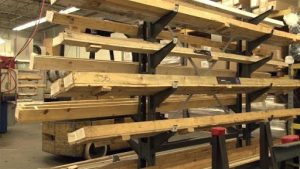 Marshall's bailiwick is manufacturing smaller medical parts for our customers. In correlation, most of our raw material consists of small diameter rod stock and tubing materials ranging in size from 1.5 mm (.060") diameter to 20 mm (0.787") diameter, and 3.66 meter (144") lengths. In the past, raw material typically arrived at Marshall in sealed wooden boxes to protect the material while in transit. Upon arrival, the material would be counted, measured, labeled and recorded for inventory, then stored on racks awaiting production. 
This storage system was often inconvenient for many reasons. Retrieving material was often difficult because of boxes being stored high on the rack, or behind another box. The wooden boxes were cumbersome and would occasionally splinter, spawning an environment of untidiness. 
Where We Were Headed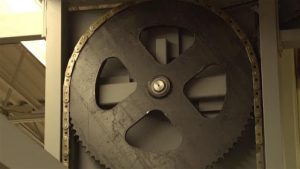 We knew that we wanted to reduce the footprint of our raw material area. To achieve this, we had to think of a way to somehow arrange the varied materials in horizontal trays, while maintaining the ability to access the material at a comfortable height. 
That is when we thought of building a customized carousel. 
We researched the subject and found a company that manufactures carousel frames with a motorized chain drive. Upon reviewing the product, we were confident that we would be able to retrofit the carousel to fit our specific needs. We could special order it to a height that would fit our manufacturing area of 12 feet. 
12.5-Foot Swivel Tray Construction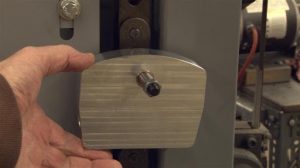 Our engineering department developed balanced swiveling tray endcaps, which were bolted to each side of a 12.5-foot-long aluminum "U-Channel" extrusion. The swivels on each end of the tray—as well as the tray itself—are weighted to be bottom-heavy. Similar to a Ferris wheel, the trays stay level and won't dump out their payload when revolving throughout the full cycle. Each tray has the capacity to hold a complete lot of material.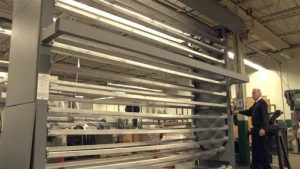 There are a total of 27 trays that are assembled onto the chain-driven carousel. The chain drive can be jogged in either an up or down direction, making access to any tray easy. This also allows the controller of the carousel to stop at the most effective ergonomic height for that specific operator. The drive speed can be adjusted while in use, so if the material needed is on the opposite side of the carousel, it can be speedily delivered to the operator.
Safety First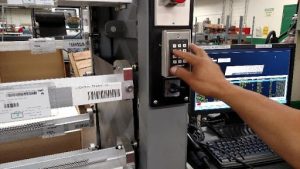 Safety remains a top priority at Marshall Manufacturing Company. The carousel can only be operated by authorized personnel with a password. Besides training, safety and operating instructions are posted on the carousel. There is an emergency stop button next to the password keyboard to prevent accidents or injury. 
Material Documentation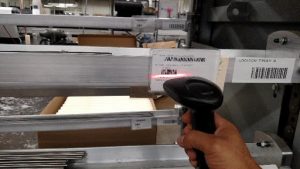 For ease of locating material on the carousel, a barcoding system has been implemented. The operator can access the material database terminal located next to the carousel, where the material and the materials' tray number are recorded. The operator can then jog to that specific tray. When removing material from any particular tray, the operator updates the database with the revised count.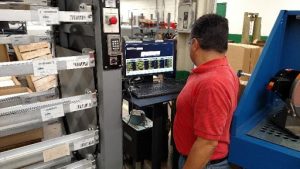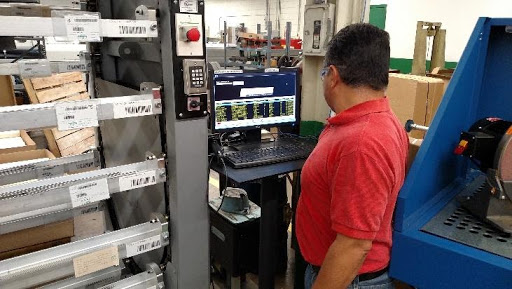 When a new batch of raw material arrives at Marshall, it is checked in and inspected to assure it meets all specifications. After the incoming processes, the material is delivered to the carousel. The database is then updated to reflect the new delivery—and the count and tray number into which it was loaded.
At Marshall Manufacturing Company, we're always looking for ways to improve. To learn more about Marshall, please check out our website or call us at 1-800-321-6727.