At Marshall Manufacturing Company, we provide our customers with the highest quality precision medical components and surgical instruments on the market. Today, we'll be reviewing the role toolmakers play across precision machining environments to demonstrate their importance and impact. 
What Is a Toolmaker?
A toolmaker, in most cases, is a highly skilled machinist who can think outside the box. Their job consists of many varied skills, such as the ability to set up and operate both manual and CNC machines. An understanding of mechanical principles and a grasp of electrical, electronics and hydraulics are helpful and sometimes necessary in this position.
What Does a Toolmaker Do?
A toolmaker's primary purpose is to assist engineering and production in building functional tooling for the manufacturing of products on the factory floor. There may be many reasons for building tooling for a new product line—such as improving the speed, accuracy, repeatability or ease of loading and unloading "product" for the machine operator that will ultimately be running the production parts. 
What Is Considered a Tool?
To people not involved in the day-to-day practices of the manufacturing industry, tooling is often a misunderstood term. In a manufacturing environment, tooling can mean a number of different things. Yes, it can be a custom profile cutter that the toolmaker came up with—or a precision ground carbide tool to be used in a lathe. Tooling can also be a stationary fixture that holds a production part in a precise position for a milling, drilling, stamping or other machining operation.  Tooling can also be extremely complex. Theoretically, a toolmaker may work with engineering to utilize multiple fixtures for positioning parts on a rotating plate, where the parts are individually hand loaded, then locked in place using a hydraulic application. After processing each individual part, the parts could be automatically released, and the cycle would then repeat. Robots, automation, cameras, laser sensors, solenoids and conveying systems can all be utilized within the tooling, and are often components in the toolmaker's toolbox.
What Tools Do Toolmakers Use to Build New Solutions?
Common tools used by toolmakers are manual and CNC turning and milling machines, surface grinders, profile grinders, Wire EDM machines and other precision material-removing equipment. 
The Purchasing Department & the Toolmaker
Often, toolmakers will work with the purchasing department to requisition raw material used in the building of a tool. Ordering off-the-shelf drills, cutters and other commodities are typically placed by the toolmaker through purchasing. Additionally, purchasing may be requested by the toolmaker to assist in locating and vetting specified components such as bearings, motors, actuators or other more specialized equipment. Under special circumstances, engineering may help the toolmaker in seeking automation experts and specialty subcontractors to assist on specific aspects of a tooling project.
Toolmakers at Marshall
The toolmakers at Marshall have diverse experience in creating tooling that multiplies production rates, while simultaneously generating high-quality parts on a consistent basis. The safety factor is at the forefront of the designing phase of tooling. It's critical for the machine operator to have a safe work environment that is also productive and efficient. 
Building Production Tooling at Marshall
A first-hand example of complex toolmaking resides within the realm of medical device production tooling. Here's an overview of the stages we follow throughout this process:
Stage 1
Our toolmakers developed a set of stamping tooling that, in the first stage, transform a round tube into a rounded-cornered rectangular shape tube.




Starting with a Straight .125″ Diameter Tube
Made of tool steel, the two halves of the die have been precisely milled to nest the round tube. Within the stamping process, the tube diameter will be transformed into a rounded rectangular shape.




Slightly Flattened into a Rounded-Cornered Rectangular Shape
Stage 2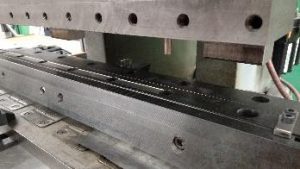 Within the second stage of the stamping tooling, the two die-halves have been precision milled with features that will stamp registration detents along the straight length of the part.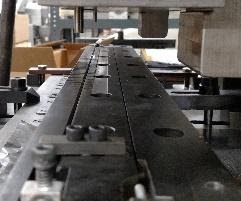 On the top side of the tube, next to each detent, there will be a "laser-etched" calibration mark. A slight bend will be added in a separate operation after the laser marking process has been completed.


Connect With Marshall Manufacturing
Whether difficult or complex, please let Marshall Manufacturing Company help you with your next project. Be sure to contact us online to learn more about our toolmakers and complete capabilities—as well as how we can support your manufacturing journey.